How to make birthday cake at home with oven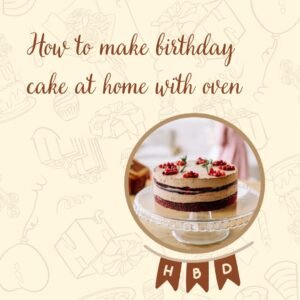 Making a birthday cake at home with an oven is a fun and easy process, here's a step-by-step guide on how to make a basic birthday cake from scratch:
Table of Contents
Ingredients:
2 cups all-purpose flour
2 teaspoons baking powder
1/2 teaspoon salt
1/2 cup unsalted butter, room temperature
1 cup granulated sugar
2 large eggs
2 teaspoons vanilla extract
1 cup milk
Instructions:
Preheat your oven to 350 degrees Fahrenheit and grease two 8-inch round cake pans.
In a medium-sized bowl, sift together the flour, baking powder, and salt. Set the bowl aside.
In a separate, larger bowl, cream together the butter and sugar until light and fluffy.
Add the eggs, one at a time, to the butter-sugar mixture, beating well after each addition. Stir in the vanilla extract.
Gradually add the flour mixture to the butter mixture, alternating with the milk and mixing until just combined.
Divide the batter evenly between the two prepared cake pans and smooth out the tops with a spatula.
Carefully place the pans in the oven and bake the cakes for 25-30 minutes, or until a toothpick inserted into the center of the cakes comes out clean.
Remove the cakes from the oven and let them cool in the pans for 10 minutes. Then, carefully remove the cakes from the pans and transfer them to a wire rack to cool completely.
Once the cakes have cooled, you can frost and decorate them however you like. Some classic options include buttercream frosting and sprinkles, or chocolate frosting and shavings.
Note: Some ovens may have hot spots or may bake differently, so it's always best to check your cake a few minutes before the suggested baking time to make sure it's not over or undercooked. Allow your cake to cool completely before frosting and decorating it.
By following these simple steps, you can make a delicious and beautiful birthday cake that will be sure to impress your guests.
How to decorate cake at home
Decorating the cake is one of the most creative parts of making a birthday cake at home. Here are a few ideas to help you decorate your cake:
Buttercream Frosting: This is a classic and versatile option for frosting a cake. You can make it in a variety of colors and flavors, and it can be easily spread or piped onto the cake.
Fondant: Fondant is a pliable dough-like icing that can be rolled out and shaped to cover cakes, creating a smooth and even surface. Fondants can also be colored and shaped into various decorations, such as flowers or letters.
Fresh Flowers: Fresh flowers can add a beautiful and natural touch to a birthday cake. Choose flowers that are edible, such as pansies or violets, and make sure they have been washed and are pesticide-free.
Fresh Fruit: Fresh fruit, such as berries or sliced fruit, can add color and flavor to a cake. You can arrange the fruit on top of the cake, or use it to make a fruit compote or filling for the cake.
Chocolate: Chocolate shavings or curls, or even chocolate decorations such as figurines or lettering, can add a decadent touch to a cake.
Edible glitter and sprinkles: These tiny decorations can give sparkle and shine to your cake and can also be used to create patterns or images on the cake.
Remember that the possibilities are endless when it comes to decorating a birthday cake, and you can let your imagination run wild. With a little bit of practice and some tips, you can create a beautiful and delicious homemade birthday cake that is sure to impress.
Cake flavors and fillings combinations
Another important aspect of making a birthday cake at home is the flavor and filling. While a traditional vanilla or chocolate cake is always a crowd-pleaser, you can also experiment with different flavors and fillings to create a unique and personalized cake. Here are a few ideas to get you started:
Flavor Variations: You can add different extracts or spices to the cake batter to give it a unique flavor. For example, you can add lemon or orange zest for a citrusy flavor, or add a tablespoon of instant coffee to create a mocha flavor.
Fillings: A cake filling can add moisture and flavor to the cake. Some popular fillings include fruit preserves, whipped cream, or pastry cream. You can also make a chocolate or caramel ganache as a filling.
Special Dietary Requirements: If you have guests with special dietary requirements, such as gluten-free or vegan, you can make modifications to the recipe to accommodate them. For example, you can use gluten-free flour or vegan butter to make a gluten-free or vegan cake.
Icing Variations: Just like the filling, you can also experiment with different types of icings. For example, you can use cream cheese frosting for a tangy flavor, or royal icing for a smooth, glossy finish.
When making a birthday cake at home, it's important to remember that the most important thing is to have fun and enjoy the process. With a bit of creativity and experimentation, you can create a delicious and beautiful cake that will be a memorable and special part of the celebration.
How to decorate a cake at home easy
Another important aspect of making a birthday cake at home is the presentation. The cake should look as good as it tastes, and there are many ways you can present a cake to make it stand out. Here are a few tips to help you present your homemade birthday cake:
Stack it up: Building a multi-layered cake can add visual interest and height to your cake. Stack the layers with a filling in between and frost the cake to create a beautiful and impressive final product.
Use cake toppers: Using cake toppers can be a creative and fun way to personalize a cake. From figurines, to custom messages, you can use any cake toppers that match the theme of the party or have personal significance.
Use Fresh fruits or flowers: Adding fresh fruits or flowers on top of the cake can add color and a touch of elegance. You can use real or fondant fruits and flowers.
Play with Colors: Use vibrant colors for the frosting or for any decorations that you want to add. This can help to make the cake stand out and make it more visually appealing.
Serve it in style: Presentation is not only about how the cake looks, but also about how it is served. You can serve it on a nice cake stand, or on a platter with a doily or other decorative element.
By following these tips, you can make a homemade birthday cake that looks as good as it tastes. It is important to have fun and let your creativity flow while making the cake.
Another important aspect when making a birthday cake at home is planning ahead. Whether you are a beginner or an experienced baker, it's important to plan and prepare ahead of time so that you can ensure that the cake is ready on time and that everything runs smoothly. Here are a few tips to help you plan ahead:
Read the recipe thoroughly: Make sure you understand the recipe, ingredients and the baking time required, as well as any other special instructions. Make a list of ingredients and equipment that you'll need.
Test the recipe in advance: If it's a new recipe, it's always a good idea to test it out in advance. This will give you a chance to make any adjustments or corrections before the big day.
Prep the ingredients: Preparing your ingredients ahead of time can save you time and reduce stress on the day of the party. You can measure and chop ingredients, and even mix the batter the night before if it is allowed by recipe.
Set up your work area: It's important to have all the equipment you need, such as measuring cups and spoons, mixer, and cake pans, easily accessible. Make sure your work area is clean and that you have enough room to work.
Time management: Make sure you have enough time to bake, decorate and present your cake. Consider how much time you'll need for each step and plan accordingly.
By following these tips and planning ahead, you can make sure that your birthday cake is ready on time, and that everything runs smoothly. Keep in mind that cake making is also about being flexible and adapting to changes, and if something goes wrong don't worry, it is still a homemade cake made with love.
With a little effort and some simple decorating techniques, you can create a cake that will be a memorable and special part of the celebration. Happy baking!